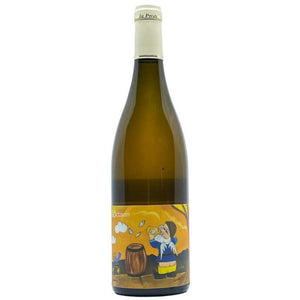 Tasting Notes
The Savagnin grapes for this wine were purchased by Alice from another Jura producer whose vines are currently undergoing conversion to organic with Agriculture Biologique. The whole bunches underwent 8 weeks maceration in tank. Bottled September 2019. - Importer Note
Alice Bouvot is the charismatic and energetic winemaker behind the L'Octavin label. Every vintage she manages to produce an astonishing number of different cuvees in her tiny winery in Arbois. And every year, they are some of the most exciting, wild and vital wines that hit our shelves.
Alice trained as a winemaker in Bordeaux and Burgundy. But when it came to establishing her own domaine, there was never any question as to where she would be based.
She purchased a tiny 2 hectare plot in Arbois in 2005, with a small cellar, and began producing what she calls "pur jus." That is to say, wine with no additions whatsoever - no cultured yeasts, no adjustments, no sulphur - just completely natural wines.
Over the years, Alice has been able to expand her operations. She now farms over 5 hectares, with several holdings in some of the region's very best lieu-dits, such as En Curon, La Mailloche, Les Nouvelles and Les Corvées. All of her vines are tended by hand and farmed biodynamically, with wild grasses, weeds, insects, and animals all creating a true and diverse ecosystem amongst the vines.
In addition to her own holdings, Alice also sources fruit from grower friends that follow her natural ideals, allowing her to produce a brilliant range of negociant wines to add to her ever-growing portfolio. These wines are vinified in exactly the same way as her estate wines - nothing added, nothing taken away.
All of her wines display a lightness of touch, and a wonderful energy and vibrancy. As reflected in the "cartoon psychedelic gnome" labels, these are fun and engaging wines, that are full of life and energy, and absolutely delicious!
| | |
| --- | --- |
| Product Type | Wine White Other Varietals & Blends |
| Volume | 750ml |
| Country | France |
| Region | Jura |
| Winemaking Practices | Natural |
| Vineyard Practices | Organic/Biodynamic |