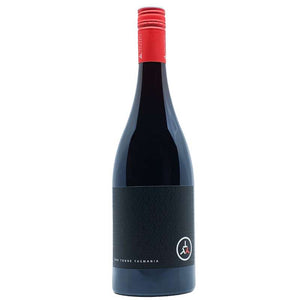 Tasting Notes
Fruit sourced from the Coal River and Derwent Valleys, co fermented with 30% whole bunches. It's spicy and much more bunchy than the TMV or EST but shows a perfumed, red cherry lift over the earthy savouriness. The palate leans into cured meats with bright red fruits, leaf litter and a beautiful length and shape. - Felix G
The name "Two Tonne" refers to the intial parcel of fruit that Ricky got to make his first micro-vintage back in 2013. It's a literal name, but one that also reflects Ricky's small-batch philosophy. As he says, "Small parcels. Big love."
As the Two Tonne project has grown, Ricky has stayed true to his word, producing three small batches of Pinot noir, sourced from three different regions across Tasmania. He also makes Chardonnay and Riesling from the Tamar, as well as his more experimental label, Ziggurat.
To round things out, his premium offering is labelled as the Dog and the Wolf. The name comes from the French expression, 'entre chien et loup'. This translates to 'between dog and wolf' and is an expression used to describe a specific time of day, just before night, when the light is so dim you can't distinguish a dog from a wolf. For Ricky, this label "expresses that limit between the familiar, the comfortable versus the unknown and the dangerous, between domestic and wild. It is an uncertain threshold between hope and fear. This wine is produced with all these elements in mind; it is a blend of two vastly different winemaking styles."
All of his wines are brilliant expressions of Tasmania's various regions, and utterly delicious to drink. In 2016, Ricky was awarded the People's Choice in the Young Gun of Wine Awards. Not surprising really.
| | |
| --- | --- |
| Product Type | Wine Red Pinot Noir |
| Volume | 750ml |
| Country | Australia |
| Region | Tasmania |
| Sub Region | Derwent & Coal Rivers |
| Winemaking Practices | Minimal Intervention |
| Vineyard Practices | Minimal Intervention |