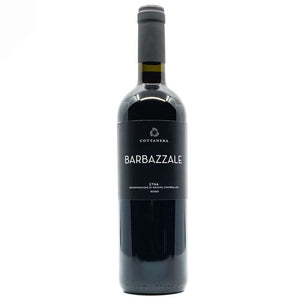 Tasting Notes
The Barbazzlae Rosso is mostly Nerello Mascalese with small amount of other local varieties. This one our favourite's in-store as it shows brilliant depth and typicity of Mount Etna at such a reasonable price. Dark, ripe fruit with a real volcanic and almost charred undertone. Can't go past it really! - Chris L
The Cottanera story begins in 1962 when Francesco Cambria bought 100 hectares of land comprising hazelnut trees and a small vineyard. He sold his grapes to alocal co-operative, and spent most of his labour farming hazelnuts. But by 1968, Etna had received DOC status, and the hazelnut industry was in decline. Ever the entrepreneur, Francesco replaced many of his hazelnut groves with vines and began selling grapes in bulk.
By the 1980s, Francesco's son, Guglielmo had developed a passion for winemaking. So rather than selling their fruit, Guglielmo built a winery and began producing his own wines, sold as "sfuso," in demijohns for local consumers and restaurants. He had early success, and as interest grew, he knew he had to scale up. So in the mid 90s, he overhauled Francesco's original plantings, opting for a higher density / lower yield output. The first wines labeled as Cottanera were born.
Flash forward to today, and Cottanera have gone from strength to strength. Many of the international varieties such as Merlot and Syrah that had been planted intially, have been grafted over with indigenous varieties such as Nerello Mascalese and Carricante. They have also purchased cru vineyards in contradas such as Feudo di Mezzo and Zottorinoto. Sadly, Guglielmo passed away in 2008, but the estate is still managed by his children, Francesco, Mariangela and Emanuele, and their uncle Enzo. They are a dynamic and rising star in the Etna wine scene, and definitely a producer to watch.
| | |
| --- | --- |
| Product Type | Wine Red Other Varietals & Blends |
| Volume | 750ml |
| Country | Italy |
| Region | Sicily |
| Sub Region | Etna |
| Winemaking Practices | Conventional |
| Vineyard Practices | Conventional |