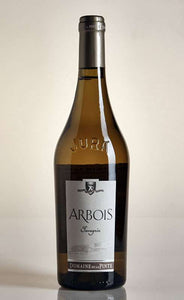 Tasting Notes
The appellation rules demand that Vin Jaune spends at least 6 years and 3 months in barrels, however Domaine de la Pinte often choose to age longer. The 2006 version spent over 8 years in barrel. Flavours are infinitely complex and surprising, with a whole range of autumnal delights (especially confit fruits, walnuts and curry spice), the whole experience straightened up by the intensity and freshness of the famous Jura acid backbone, leaving the taster with minutes of flavour persistence per mouthful. - Importer Note
The vineyards on the site of Domaine de la Pinte in Arbois have a long pre-phylloxera vine growing history. But it was in the 1950s that the modern age began, and Domaine de La Pinte was started. At the time, the planting of 14ha of Savagnin was considered madness. This is now an unparalleled stock of old vine Savagnin, completed with plenty of Chardonnay and old vine reds.
After a quiet period up to the end of the last century, the Domaine was reanimated by progressive big and positive decisions. In 1999, the 34 hectares were converted to organic viticulture. In 2009, with the arrival of Bruno Ciofi at the helm, the full property has been converted to biodynamic culture.
The wines are made in concrete tanks or enormous old-style oak fermenters with a Burgundian style rigour, seeking to provide only controlled micro-oxygenation in topped-up various sized oak barrels. SO2 is used sparingly, only during the final stages of racking prior to bottling, with the aim to have zero free SO2 in bottle.
Certified Organic/Biodynamic, Member of Renaissance des Apellations ('Return to Terroir ")
- Importer Note
| | |
| --- | --- |
| Product Type | Wine White Other Varietals & Blends |
| Volume | 640ml |
| Country | France |
| Region | Jura |
| Sub Region | Arbois |
| Winemaking Practices | Natural |
| Vineyard Practices | Organic/Biodynamic |