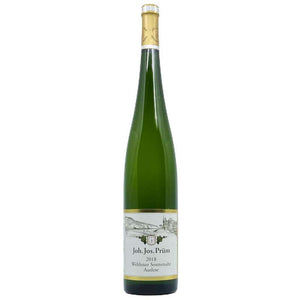 Tasting Notes
The Wehlener Sonnenuhr vineyard has become intrinsically attached to the name of Joh. Jos. Prüm. The Estate owns five hectares of this majestic site. It offers perfect growing conditions for the Riesling grape with its deep, weather-beaten grey slate soil, good water support, extreme steepness of up to 70 % gradient, and its optimal south-south-west exposure. As for the Zeltinger Sonnenuhr, Wehlener Sonnenuhr is named after the sundial erected in the vineyard in 1842 by Jodocus Prüm, an ancestor of J.J. Prüm, to give the workers a better time orientation. The wines of the Wehlener Sonnenuhr generally possess excellent structure, show beautiful, ripe aromas and flavours (typically stone fruits, like peach, nectarine, apricot), a fine minerality and great depth and length. Especially after having been aged for some years, the harmony, finesse and expression of these wines is unique. Riesling guru Stuart Pigott has written; "Joh Jos Prüm's Sonnenuhrs are classic examples of the way in which the best Mosel wine's natural sweetness magnifies, rather than obscures, their character. These are a perfect marriage of Riesling's peach-like, floral and mineral aspects. White wine cannot be fresher, more vivid and delightful. " - Importer Note
The Mosel River Valley is probably the most famous and arguably the most admired wine region of Germany. In its wider sense, it includes the adjacent Saar and Rüwer (hence Mosel-Saar-Rüwer), both tributaries of the Mosel River, however it is the middle Mosel (mittelmosel), in particular between and including the towns of Bernkastel-Kues and Erden that the most brilliant wines tend to be produced. Berkastel, Grach, Wehlen, and Zeltingen are some of the most famous wine towns here. All of the vineyards of J.J. Prüm are located within this prestigious strip. The Prüm family history in the Mosel dates back as early as 1156! However Johann Josef Prüm (1873 - 1944), founded the J.J. Prüm estate in 1911. Dr Manfred Prüm has led the estate since 1969. Now his daughter Katharina is taking over the mantle. The 13.5 hectare estate includes some 70% of ungrafted vines (because the phylloxera louse cannot survive in these slate soils.)
So what is the secret is to the quality of the J.J. Prüm wines? How is it that they differ so much in style and quality from the wines of most other Mosel producers? The answer, as always, lies mostly in the vineyards, backed up by winemaking of the highest order. Great sites, old vines, the lowest yields, very late harvesting and selection of only the best berries. In the winery the winemaking is as natural as possible with as little intervention as possible. The wines typically need several years to start showing their best and can live and develop for decades. Generally speaking, the later the harvest, the longer the wine can live, so Spatlese is more age worthy than Kabinett, Auslese more so than Spatlese, and so on.

All of the vineyards of J.J. Prüm are renowned yet it is the great Wehlener Sonnenuhr vineyard that is the most famous. This site lies opposite the village of Wehlen on a very steep, south-west facing slope between the Graach and Zeltingen vineyards. Stuart Pigott notes; 'For wine lovers around the world the Wehlener Sonnenuhr name is synonymous with great Riesling. In top vintages the site yields the richest, silkiest, most seductive wines on the Mosel. The fame of these Rieslings is inextricably linked with that of the Joh Jos Prüm estate. " Having said this, Prüm also produces outstanding wine from benchmark sites in Graach (Graacher Himmelreich), Zeltingen (Zeltinger Sonnenuhr) and Bernkastel (Bernkasteler Badstube) and it is very difficult to pick these wines apart in blind tastings '– they are all exceptional. Yet they all subtly express the unique personality of the vineyard in a given year.
Although the J.J. Prum vineyards all border each other along the same riverbank and share roughly the same soils (Devonian slate), each site has subtle, yet important differences that results in quite distinctive styles of wine. We'll try to address each of these below. Let's follow each site in order from North to South starting with Zeltinger and ending with Bernkastel.
- Importer Note
| | |
| --- | --- |
| Product Type | Wine White Riesling |
| Volume | 1500ml |
| Country | Germany |
| Region | Mosel |
| Sub Region | Wehlener Sonnenuhr |
| Winemaking Practices | Conventional |
| Vineyard Practices | Conventional |